Tristate Multiplexing
LEDkit™ clock kits use tristate multiplexing in order to minimize the number of wires that need to be connected from the driver to the display panel. With tristate multiplexing, 30 different LED segments can be independently controlled using only six wires.
How it works
Tristate multiplexing differs from ordinary multiplexing because it uses a different property of the lamp element. While ordinary multiplexing relies just on the LED's ability to block reverse current, tristate multiplexing uses the element's forward voltage characteristics — the fact that small voltages do not light the lamp as much (or at all — in the case of LEDs — see below).
What this means is that you can connect a lamp to each possible pair of wires without worrying about interference. For example, we can attach six lamps to four control wires as shown below: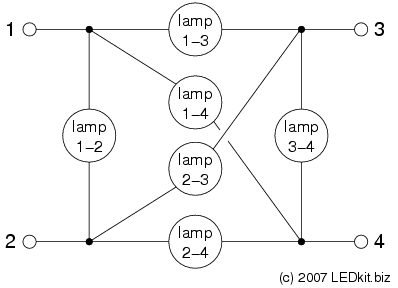 Applying a voltage across terminals 1 and 2 lights lamp 1-2. It does not light lamps 1-3, 2-3, or 3-4 because none of those lamps get the full voltage.
In this example you can control 6 lamps using 4 wires. Normal multiplexing would give you only 4 lamps.
In general, tristate multiplexing with n wires gives you n * (n-1) / 2 lamps because that is how many pairs of wires there are.
Turning on multiple segments simultaneously
In any multiplexing scheme, multiple segments appear to be illuminated even though only one is on at a time. The elements to be illuminated are turned on one at a time in rapid repitition to create the illusion that all of them are continuously on. Contrary to popular belief, refresh rates higher than 100Hz are needed to maintain this illusion. LEDkit™ clocks use a much higher refresh rate so that the display does not appear flickery when viewed from the corner of the eye or when moving one's eyes.
Advantages of using LEDs
LEDs and a few other types of lamps have an extreme nonlinearity in their voltage characteristic which causes them to not light at all when there is insufficient voltage. This results in a clean image in your clock because there is no stray illumination from the LEDs themselves.
Finally, LEDs have the reverse-voltage blocking used in traditional multiplexing, allowing twice as many LEDs to be controlled as shown below.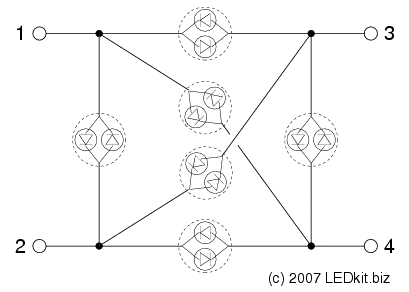 In general, tristate multiplexing with n wires and polarized elements gives you n * (n-1) lamps because that is how many ordered pairs of wires there are.
A History of Tristate Multiplexing
In 1971, National Semiconductor mass produced ICs with three drive levels — low, high, and off — and trademarked "Tri-State". The phrase became so popular that it now appears on virtually all modern microcontroller datasheets.
In 1979, Christopher Malinowski used tristate drivers to reduce the number of wires required in multiplexing, patenting his invention in Germany that year. United states patent 4,319,227 was granted in 1982. On the cover page of this patent there is an illustration like the one shown above with 12 LEDs controlled by 4 wires.
In 1997, the first designs were made for the LEDkit™ clock, and the technology was improved by the LEDkit.biz founder to make it practical for clock kits.
In 2003, Charlie Allen of Maxim Semiconductor popularized tri-state multiplexing by designing the MAX6950 series of ICs for driving LEDs using tri-state multiplexing. Maxim application note 1880 therefore calls the method "Charlieplexing".
In 2007, LEDkit.biz opened to the general public and several hundred kits were sold based on tri-state multiplexing. Demonstrations of the kit drew crowds at the Maker Faire in Austin, Texas.
© 2007 LEDkit. All rights reserved. legal information | contact us