LEDkit.biz in the News
Hands on demos of our popular kits were shown at the Maker Faire in Austin, Texas on October 20-21, 2007. Read the press release and one Maker's story.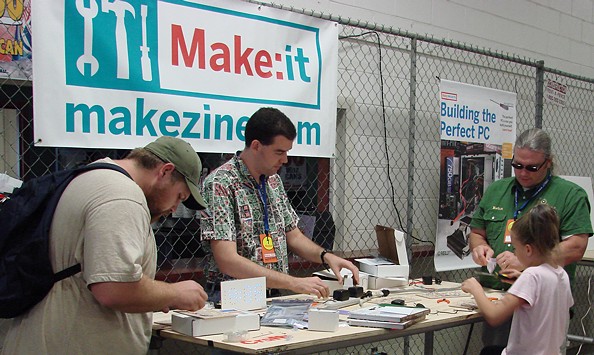 Above: four Makers assembling LEDkit.biz clocks at the Faire.
As seen in electronics magazines!
Read about our products in the following fine publications:

The first magazine devoted entirely to DIY technology projects, MAKE Magazine unites, inspires and informs a growing community of resourceful people who undertake amazing projects in their backyards, basements, and garages.

Nuts & Volts is the leading magazine for those seriously interested in electronics. There now remain only a few magazines written for the electronics community with Nuts & Volts being the highest readership, longest running electronics publication left in the US today.
About LEDkit™ clock kits
© 2007 LEDkit. All rights reserved. legal information | contact us