Kit Contents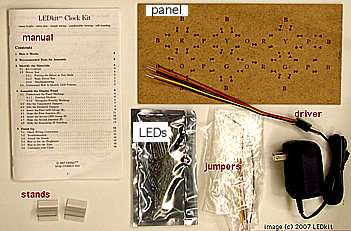 The kit includes all materials you need to build the fully functional clock:
complete assembly instructions (sample page)
driver with wall transformer
super-bright blue or red LEDs (48 + 6 spare)
9" x 5" pre-drilled, pre-coded display panel
90° adhesive stands (2)
color-coded stripped jumper wires
Tape required during assembly is not included. If desired, this tape can be removed afterwards, as the LEDs are firmly lodged into the panel when assembly is complete.
The kit includes 6 spare LEDs — just in case you accidentally break some LEDs during assembly. Get your kit now!
Tools Required for Assembly (not included)
small pliers
small screwdriver or nail
tape (clear tape is recommended)
No expensive tools are required. Just push the LEDs into the predrilled holes in the included panel. Tape the included wires onto the panel and twist them together with the LEDs. Plug it in, set the time, and voila!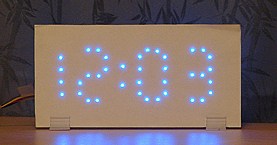 About the LEDkit™ Clock Kit
© 2007 LEDkit. All rights reserved. legal information | contact us