timekeeping method
line-synchronous with advanced PLL
backup power
large capacitor, lasts for 1 minute
multi-display synchronization
Supports Linking!
display format
12-hour (3.5 digits)
panel dimensions
9"W x 5"H x 1/8" thick
display elements
48 super-bright blue LEDs
time and brightness setting
simple pushbutton interface
panel wiring diagnostics
test sequence via pushbutton
mounting
sticks to flat surface, standing upright
power supply
3W UL-listed wall transformer
input voltage
110-130V 60Hz
LEDkit™ clocks derive their features from the advanced driver included in the kit. This driver is fully preassembled when you get it. The driver is attached to a UL-listed USA/Canada wall transformer and has a formed, transparent protective plastic cover for safety. In the following picture the cover has been removed to showcase the fine-pitch technology: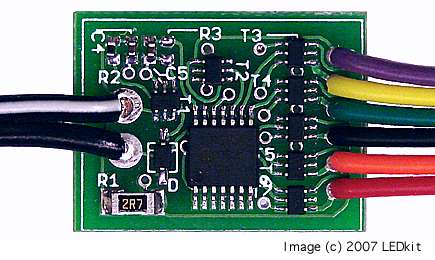 Our patent-pending driver provides the following features:
Selectable brightness (blue LED version only) allows optimal viewing using a variety of custom diffusive covers and LEDs.
Built-in test sequence makes it easy to correct any mistakes you may have made in panel wiring.
Line-synchronous timekeeping never needs adjustment. Typically the variation is less than one minute per year — better than most quartz timekeeping devices.
Included energy storage capacitor keeps time even when unit is unplugged for up to one minute. This allows the clock to keep time during brief power interruptions, such as when a fuse is blown or the unit is moved from one outlet to another.
On-board amplifiers directly power up to 144 red LEDs or 288 blue LEDs at a high brightness.
Smooth fading eliminates distraction when the time changes.
Intuitive interface for setting the time. Three individually settable digits: hours, minute tens, and minute units.
Very high display refresh rate eliminates flicker-induced discomfort.
Electrical and thermal protection against accidental short circuit of the outputs.
Each individual driver is completely tested after assembly.
The driver is included in the basic kit. After building your first clock, build more clocks by purchasing additional drivers here:
Note: there is a $6 handling charge if your order is under $25.