Solderless Design Makes Learning Safe and Easy
The LEDkit clock uses a unique wiring pattern that minimizes the number of wires and allows most LEDs to be directly connected to nearby LEDs. Leads are twisted together without soldering. In contrast to older circuits requiring multi-layer wiring boards, our circuit is clearly visualized in one glance: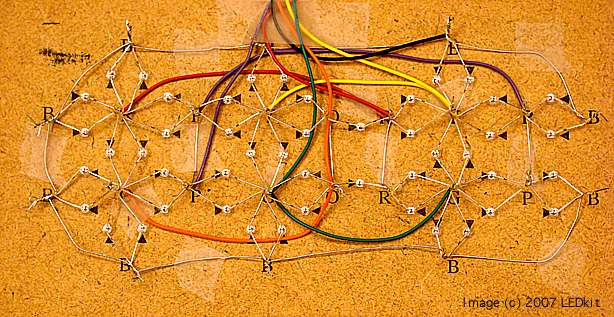 Unlike conventional PCB-based kits, there are no tiny 1/16" holes to sort out in this project. All connection points are labelled in large 1/4" lettering as shown below.

The manual included in the kit explains all assembly steps in detail. For example, the manual explains three ways to find the positive lead of an LED. There are more illustrations than pages! For example, an illustration on page 12 shows how to twist a bundle of wires together:

© 2007 LEDkit. All rights reserved. legal information | contact us